Motorpoint makes £21.5m profit on used car sales
Used car dealership group Motorpoint has more than doubled its year-on-year profits, bringing them back to levels not seen before the pandemic.
The independent car retailer's pre-tax profit reached £21.5million in the financial year to March 31, 2022, from £9.7million the previous year when trading was hit by the lockdowns in the UK.
Revenue rose 83% year-on-year from £721.4m to £1.32bn, from 14 dealerships, due to a combination of market share growth and inflation vehicle prices, Motorpoint said.
Before the impact of the pandemic, Motorpoint recorded £22.9m in PBT and £1.06bn in revenue with a network which at the time totaled 12 car supermarkets in the 2018/19 financial year .
Its latest report shows its e-commerce revenue increased by 43% to £624.9m out of its £1.3bn total in 2021/22, but as a proportion of retail revenue from over the full year, they fell from 73.6% to 56.2%, signaling that many consumers are even more comfortable buying their used car when visiting a real dealership.
Some £210m of its revenue has been generated from wholesaling vehicles – Motorpoint owns the Auction4Cars.com platform which sells its parts-swap vehicles to other car retailers for stock, and which has now been upgraded to also allow third-party vendors to sell stock to merchants.
Motorpoint Managing Director Mark Carpenter said: "We have consistently managed to adapt our business to meet any challenge and remain profitable since our inception 24 years ago.
"I am extremely pleased with the progress we have made on our medium-term strategic objectives and I am confident that Motorpoint will be a winner in these rapidly changing markets."
Motorpoint's ambition is to grow annual revenues beyond the £2 billion mark while delivering a painless omnichannel experience for car shoppers.
It increased its overall sales volumes by 44.7% year-on-year to 97,700 units, including 62,900 retail sales (up 45.9% year-on-year) and 34,800 commercial sales (up 42, 6% over one year).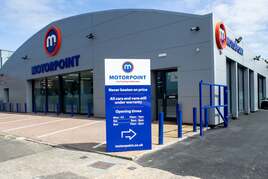 Average days in stock fell from 67 to 54, and gross retail profit per unit rose 15.3% to £1,446 from £1,254.
In 2021, Motorpoint began actively marketing to buy cars from consumers, and its report shows that it acquired 11,300 vehicles, which, along with parts exchanges, helped to increase its proportion of vehicles sold to the retail from consumers at 17.9% versus 8.3% the previous year.
Motorpoint has further expanded its dealer network this year, to 17 showrooms, following new openings in Portsmouth (pictured), Manchester and Maidstone, some of which are on a smaller scale than its traditional car supermarket locations but still offer a choice thanks to its omnichannel retail strategy.
The opening of another vehicle preparation center in Motherwell in August 2021 added 20,000 units of extra capacity, and now Motorpoint could prepare over 120,000